It has been 48 hours since I witnessed history , since I witnessed what faith and belief can achieve. I have tried to gather my thoughts and write a coherent post to share with you all – I failed to get even one word going in the last 48 hours.
I'm overwhelmed, I'm ecstatic, I'm elated, I've cried a million times, I've screamed my lungs out, I've sat down quietly in a corner of my room trying to recollect what I witnessed in those 12 hours.
How do you deal with this unfathomable joy? For the last whole year I've been telling folks India will take this cup – for the last month despite shoddy display in the league phases, I've been shouting hoarse to all cynics that India will make it to the finals and win the cup. Yes they will do it, they don't have the best bowling, they don't have the best fielding, they have the best batting but it can be unreliable but remember they have a spine. This team has a spine and they have the will to fight it out.
To those born in the late 90s and have witnessed the glory days of Indian cricket – you will not understand my 80s generation's joy  because you never witnessed our pain.
I was a toddler in 83 – I don't know what the win meant but I do know that it changed the face of Indian cricket; however we never went on to be world beaters or favourites to win a tournament.
The greats retired and 90s set in. India never made it big – we had our small shares of wins but we never made it to leading tournaments. I  remember us winning a handful of majors in that decade – Hero Cup in 93, Titan Cup in 96-97, Independence cup in Dhaka 98 and Sharjah 98 ( that did not involved Pakistan) We managed to beat Pakistan thrice in the 3 world cups but lost to them in Sharjah all the while.
Sachin remained the sole fighter while the rest of the team continued to collapse around him. You did not witness the shame of '96Semi-final in Kolkatta, the heartbreak of '92 Vs Eng & Aus, the gut-wrenching no show in super six stage in '99. Every time we raised our hopes and every time we were disheartened.
The match fixing scandal hit India and its cricket was in shambles. Then came the ICC Championship in Nairobi 2000. Ganguly took charge of a young team with Wright for company and Dravid and Tendulkar his knights. Yuvraj, all of 18, hit that fabulous 81 against Aus in his debut and Zaheer bowled out Steve Waugh. Those matches against SA and Aus gave us now 20 year olds a ray of hope. India lost that final to NZ – rather to Cairns and lost many more on a trot later but had learned to make it to the finals.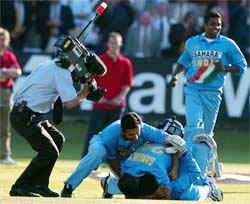 2002 Natwest Trophy remained my most cherished moment in ODIs – after being 143-5 having lost Tendulkar chasing a score of 320+ all looked lost when young guns Yuvraj and Kaif decided to fight it out. I was in Mangalore then and was to get back to Mumbai the next day for my MBA admissions. We switched off our television sets and my office friends took me out for dinner. We then heard crackers all over – only to realise we had missed one of India's finest chases.
Then came the unexpected campaign of 2003 WC. When no one gave them a chance India reached the finals of the WC, lost only twice in the entire series – both times to Australia. That time I was not sure India would win and with Sachin out in the first over chasing 360 – it looked all doomed for India. I was not disappointed though, because I felt this was a sign of things to come.
My biggest heartbreak came in 2007 when India bowed out in the qualifying rounds. It seemed all too cruel. Ganguly, Dravid, Sachin, Kumble were probably playing their last WC I thought and this was not how they deserved to bow out.  I was hurt and upset and drowned in sorrow – how could this team bow out in such a fashion. I switched off from ODI cricket for a year until Gambhir, Sachin and Dhoni's young guns brought me back after their triumph Down Under. They made me believe that things would not be the same anymore.
Over the last 2 years I've seen Dhoni's & Gary's team fight it out, back the players and show the will to win. To want nothing less than a win. To me that was the biggest sign that I needed to believe in this team. Yes I've had my reservations on certain selections and choices – but then I decided I needed to believe.
I was probably shaken up a few times during the WC campaign but not once did I feel that we will not win. I was worried , tensed, had acidity bouts before knockouts, had goose-bumps , and stopped working in office but I did not stop believing. I warded off cynics – picked up fights and arguments with colleagues who refused to support their own team and gave a dose of my sarcasm when the Aussies, Pakis and SriLankans at work tried to be nasty about their teams chances.
No negativity this time for me – I had made up my mind. I had planned the finals two years ago and my team was going to make it. I've been an ardent fan of this game for 19 years and I was going to witness history, at any cost. I deserved it – a billion people who believed in their team deserved it – the man who has borne the burden of Indian cricket for last 21 years deserved it – The 4 people of the fab five who played a colossal role in turning around the fortunes and attitude of Indian cricket ; Ganguly,Dravid,Laxman and Kumble  deserved it –  the two coaches Wright and Kirsten, who gave it their all for Indian cricket and whom we can never repay even if want to, deserved it. The team who has played so well together for last 2 years – focussing on a single goal of winning the cup – deserved it.
I have had horrendous memories of SL playing India in Mumbai. Saurav Ganguly was clean bowled, stumps wrecked first ball in 1997 and then Jayasurya had come and hammered the Indian bowlers around for 150+ not out. I was not going to let those memories affect me again. I was not going to recollect '96 semi-final again though I kept getting weird feelings when Sangakkara & Jayewardene got together for a la-Ranatunga-Aravinda partnership in the making and when Sachin got out leaving India at 31-2 chasing 275.
I then reminded myself to believe in Gambhir, Dhoni, Kohli, Yuvi and Raina. 3 of them will be India's future batting stalwarts and how criminal of me to not trust them. Gone were the days of Indian batting collapsing once Tendulkar was gone – so all of you who shut down their TV sets after Sachin got out – shame on you. You need to start believing in this next generation.
What I saw later was witnessed by one and all – not once did anyone lose their calm heads, not once did they lose sight of the target – there was a fierce determination to get this one right and they did – for their nation, for their GOD and for themselves.
I don't remember Dhoni's six – it came
close to where I was sitting at Wankhede and the crowd erupted once the bat hit the ball. I stood still for a few seconds and then gave out a wild scream and hugged my husband. I had imagined this win for the whole of last year – when it happened in front of my eyes , I was too numb to react.
How could I – this was a moment I had waited for 19 years of my cricketing fandom and I can only imagine Sachin's joy – he who first wanted to win the World Cup before any of his monumental achievements. He earned it in his last campaign – his 6th after 22 years. He is not my favourite cricketer – that is Rahul Dravid – but he is like for many others my cricketing GOD.  I saw my GOD become human that day. He cried, he had been wanting this moment for 22 years and his team had gifted it to him. Every single member of the team said they wanted it to win for India and for Sachin. The warmth and the unity within the team gave me goose bumps.
The win on 2Apr2011 proved why team sports matter more than individual sports. When you play for one other, when you win for your team-mate , you share grief and joy, ups and downs, laughter and tears, you share your life. Those 15 men will share this memory for the rest of their lives. No one can take it away from them.
When the young lads in the team Virat, Raina and Pathan carried that little giant on their shoulders along the ground – there was not a single soul at the stadium who did not shed a tear. We have witnessed his birth as a cricketer – what better moment to witness his moment of glory. MSD and his team gifted a billion people a memory that will last their lifetime. In that one 6 of his – MSD united a billion people around the world.
That night it did not matter where you were – inside or outside the stadium, in or outside India. We screamed, we cheered, we sighed, we laughed, we shouted, we danced our hearts out, we watched the re-runs of that 6 again and again and we cried out of sheer joy and ecstasy. The country partied into the night like there was no tomorrow – it did not matter who you danced with that day or whom you hugged – we all just shared one thing in common – the feeling of being an Indian and what a feeling it was!
As I headed back home from the maddening crowd and celebrations and rested my head on my husband's chest – I heard his heart still beat fast and knew mine had not slowed down either. I calmed myself down and then thanked God – For the first time in my life, I was glad my dad never had a son and neither did my uncle. I became their son and cricket became my love. If it weren't for this simple occurrence in my life – I would've missed out on the greatest joys in my life!