This post cross-published on HoldingWilley
This is my 20th season of cricket fandom and my 6th world cup in those 20 years. The first season I got hooked onto to the game was during my pre-teens in '91-92; and despite it not being India's best season – it still holds a sentimental value for me. Add to it the fact that the season ended with the World Cup down under – coloured clothing and day-night matches for the first time. Papa recording all the matches that I missed during my school time.
Over the years I've seen 5 World Cups with no great showing for India barring the 2003 WC. As every WC came and went – my hope that I'd witness an Indian WC win rose and fell. I'm yet to draw level with my papa and uncle and all my elder cousins who recall the '83 win ball-by-ball; I was a toddler then, with no clue about the game.
So with 3 days to go for the biggest extravaganza of the cricketing world cup, I find myself hoping again that India goes all the way – I'm incorrigible that way you know. As I await that moment of glory, I can't help but look back at the past and recollect some fine moments of the World Cups gone by.
1992
Think WC1992 and two of the best fielding moments in the history of the game come to mind:
Another 19 year old – who would go on to be heralded as the best fielder ever in the history of the game – showed glimpses of what we would be witnessing in the future years. Jonty Rhodes flew from the point onto the stumps – mark my words – not ran – he flew.

Don't believe me watch the clip again.

He effected the run-out of another prodigious 19-year old and I'm yet to see someone beat that effort.
Javed Miandad jumping around like a monkey imitating Kiran More and Sachin Tendulkar getting that delightful 50 against the best Paki attack. India met Pakistan for the first time in a World Cup and the histrionics on the field were expected. India won by 43 runs and Pakistan are still to beat us in a ODI World Cup.
Experienced heart-break for the first time in my life– it still hurts when I recollect that 1 run loss to Australia. Raju and Srinath's pre-celebration at their miscalculation! Azhar and Sanjay Manjrekar's 93 and 45 respectively going in vain.
The controversial rain-rule , no one knows how much it hurt more than the debutant South African Team. I can never forget their faces when the board displayed 22 runs of 1 ball in a rain-stricken semi-final against England. Don't think South Africa ever recovered after that.
Martin Crowe pulled off two heists – opening the bowling with Deepak Patel and the batting with Mark Greatbatch. Greatbatch remains the inspiration for the madness we see in the openers of the world today. SL owes their WC '96 win partly to Greatbatch – the Jayasurya-Kaluwitharna combo wrecked similar havoc then.
Cricket transcends boundaries – that truth dawned on me when I became a huge fan of this man. That man with that terrific in-swinging Yorker, the maestro of reverse swing, the one who not only made 33 in Pakistan's innings but bowled those 3 beauties to rattle off England's dream. Allan Lamb and Chris Lewis will never forget Wasim Akram in their lifetime – neither will we.
1996
You may well recollect Kolkata '96 and Kambli crying but I only have memories of Ajay Jadeja messing up Waqar Younis's records.He scored 40 off Waqar's last 2 overs – 22 and 18.  2 sixes – one of them playing on the back-foot off a yorker. Who in their freaking sane mind hits shots like that ; well Jadeja did and for that innings of 40 off 25 balls he will remain in my hall-of-fame forever, just as Prasad will for that delivery which got Aamir Sohail out and effectively messed up Pakistan's chances.
I also watched my first world cup match and the first day-night match at Wankhede. Sachin's knock of 90 against Aus was a delight as much as Mark Waugh's century in the afternoon was. I still have that ticket well preserved.
'96 WC was SL's Cindrella Story – they could have not have chosen a better opponent to thrash. Though they did not win on home soil – they did break the jinx of hosts not winning the cup.
1999
Do you remember Australia's one-sided victory over Pakistan at all? I recollect Gilchrist playing around with the bowling but nothing more than that. And if you ask me what I relate to when I think 1999, here is the list – Aus Vs SA semi final, Ganguly's 183 at Taunton. Dravid's back to back centuries Vs  SL and Kenya. Sachin Tendulkar's 140* Vs Kenya – few days after he lost his father.
India lost to Zimbabwe and needed to win the next 3 matches to make it to the Super 6 which were introduced for the first time. Sachin Tendulkar had to rush back home on hearing the news of his father's demise and returned within 4 days to serve his nation. I cannot forget the teary-eyed Sachin when he raised his bat to the skies after hitting a century against Kenya. That knock remains my sentimental favourite. In the next match against Sri Lanka, Saurav Ganguly and Rahul Dravid came together in over no 1 and lasted till over no. 46. Kapil Dev's long standing record of 175 was wiped off and Ganguly's knock of 183 made Dravid say "On the off-side first  there is God , and then there is Saurav". India made it to the super 6 stage beating England but crashed out badly later.
But far from those memories what stays on in your head is this image and re-live it by watching it here again: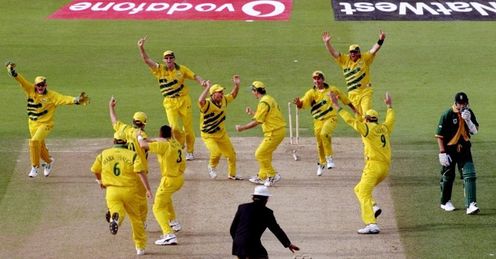 A heartbroken Lance Klusner who had almost pulled off an incredible win for South Africa. For all the super spells he bowled in his cricketing career, Allan Donald would trade them all for this moment of silliness.
After that super 6 league match Gibbs would never ever pre-celebrate a catch and Steve Waugh's words "You just dropped the WC Son' would go onto be legendary words of wisdom. This cup win marked beginning of the unbeaten streak of Australia in the world cup – that is yet to be broken.
2003
A fairy-tale in the making that was spoilt on the last day! This could've been India's world cup had Ganguly not repeated what Azhar did in Kolkata '96 – winning the toss and putting the opposition in. Spelled doom from that moment on and the WC final was forgettable; but what was not was India's journey to the final After the league loss to Australia, India did not look back and won every single match on their way.
Srinath, Nehra and Zaheer  bowled like a dream. Sachin and Sehwag thrashed Shoaib, Waqar and Akram hitting those sixes off the square region. Sachin's magical 98 of 75 balls Vs Pakistan and his remark at the presentation ceremony that they are yet to beat us in a World Cup match. The clinical finishes by Dravid, Kaif and Yuvraj and Ganguly's inspiring leadership.
India and Aus looked the best and the most consistent in that tournament and it was apt they met in the finals. But what seemed like a good match-up lost all its charm once India bowled and Aus belted 350+
This world cup witnessed two of the best swing bowling displays  – Nehra's 6 wickets against England and Anderson's 4 against Pakistan. I could watch those over and over again.
2007
The less said the better. A world cup marred by controversies, worst hit by the departure of India and Pakistan in the league – for the sub-continent viewers the WC was over within a week. If this  was not enough, news came in of Bob Woolmer's mysterious death. The game was dying in the Caribbean and the long format and controversies did not help the cause any further.
So what does the 2011 World Cup hold for us fans – looks to be far more exciting with the top teams playing some great cricket. My thoughts on who should make it and who might not in the next post. Until then – given that my illness cannot be cured – I'm back to hoping that India pulls it off this time and breaks the jinx!